Why Use

Google Adwords

5 reasons why PPC marketing is worthwhile:

You only pay when a person clicks your ad.

You set your budget to control daily costs.

You can reach your target customer easier at the right time with the right ad.

PPC can show results very quickly unlike organic SEO which takes time to get search results.

PPC data can inform your other marketing channels and is a great way to target your content to the right audience.

If you can monitor and optimise Adwords and Bing Pay Per Click advertising to get a 8-10% conversion rate, this would mean a heap more enquiries and sales if your offer is great. We will show you how. Book a consultation today.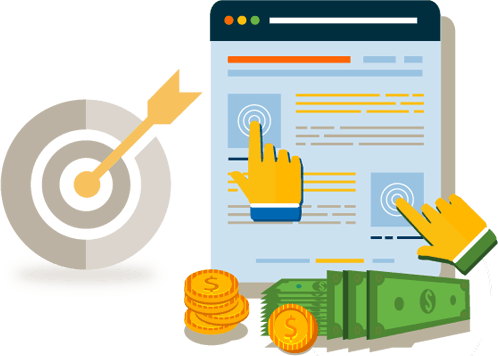 Points for you to consider with Pay Per Click
The one concept that seems exciting and intriguing at the same time is PPC. Before you go all aahh! and oohh!, there are a few things you need to know before delving into the concept.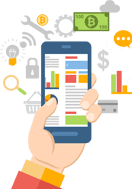 It's not easy
Here is what you need to know, pay per click (ppc) is not a simple concept. When it comes to hiring, you don't hire an individual with no experience. The concept takes time, skill and strategy. This is coupled with better understanding of the ad platform, solid knowledge of rules and guidelines plus creative and marketing knowledge. It is wise to look for an agency that is credible and trustworthy. Alternatively, you can opt for an in-house professional. Always beware of people who promise the world to you as well as not helping you understand the results that impact your business.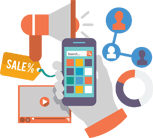 It's collaborative
Any website owner should know this – true PPC strategy is achievable through collaboration. You may opt to hire a pro to manage your account but in the end, you are the expert of your business. When you work together with your PPC manager by developing new ideas and combining strategies, you will achieve great things.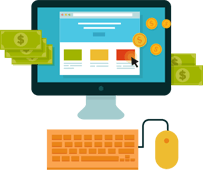 It's ongoing
Pay per click (ppc) strategies need to be part of your everyday running of the business. When it's done right, you will be able to achieve a great ROI. When your business booms, it can be attributed to the capability of PPC to drive revenue. It is also a great support system throughout the life span of your business. Launching a new website? Pay per click is there? New product or service? New educational article? Have a training video to make something awesome? Want to rebrand your business? PPC is there to help you.
Here is a vital tip – when in need of a Google Adwords manager, look for a long term partner. They will help you grow your business.
See how pay per click (ppc) is vital for your business brand, products and services. It is a viable marketing tool that can uplift your brand. Never done it before? You can always throw caution to the wind and take PPC for a test drive. Chances are, you will never regret the decision and furthermore, your brand will soar to greater heights.
Pay Per Click (PPC) Management for Adwords and Bing
Google Adwords and Pay Per Click (PPC)
Pay Per Click (PPC), stated in the simplest terms, is the service of paying the search engines and social media sites to display ads for relevant keywords or a set of rules that link back to your website or business pages. You generally do not pay unless a user clicks your ad, potentially gaining a new sale or lead. Pay per click campaigns can be an extremely powerful set of sales and lead generation tools if set up correctly.
Pay per click services include Google, Linkedin, Facebook, Instagram and Bing. In our experience Google has generated the most relevant leads and sales however Facebook ads are highly improved and a cost effective approach as well.
The Google Adwords system has plenty of features including:
Location targeting of ads, meaning your ads won't display in locations you don't want them to.
Broad and exact keyword matches.
Ad visibility in different applications i.e. desktops, laptops, tab, smart phone, etc.
Setting a daily budget meaning your won't be charged more that you set.
Advice on when your budget is too low costing you potential leads when your ads stop running.
Ability to display your ads on the networks such as YouTube.
As a general rule businesses in competitive markets targeting the same products and services will pay more per click than businesses where competition is not so competitive. Competitive markets would need to be prepared to have a higher daily budget and/or have great website content to improve their page rank.
At RCS our service includes PPC Management and upkeep of your Adwords account. Talk to us today about the options available to you.
Bing Advertising
Bing offers flexible solutions to target new customers. Similar to Adwords, its a great way to get ads out front of your target market and target location.
Why use RCS Websites for your Bing Ads?
We manage your own account so you don't pay addition fees for clicks. You pay Bing directly for clicks yourself. This will save around 10% of your daily budget.
You can login to check your account anytime.
Totally transparent management service.
We offer consultant like advise to help you better understand our strategy and a better online marketing strategy for your business
We offer more that just Bing Ads management also offering Google, Facebook and Content Marketing strategy to also help your website rank higher naturally for seo.
We offer landing page conversion optimisation to help gain more enquiries once a potential customer has visited your website from an Ad.
What are your options?
From simple Bing ads only management service to combined services for Adwords and SEO along with website hosting, website update services and more.
No contracts and no surprises with fees.
Ask for a quote today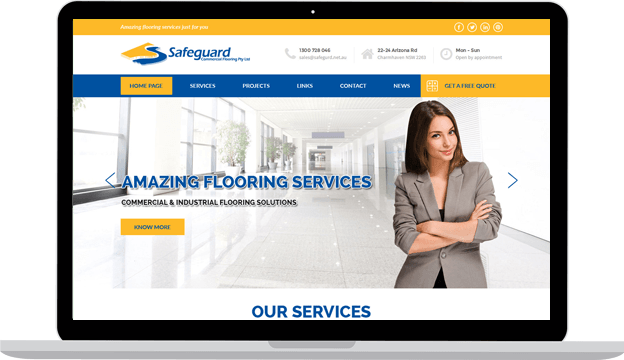 Safe Guard Flooring (Mark Gately)
Mark Gately had a business website created that cost him a substantial amount of money. After a year he found out that it had no presence on the web.
He conducted his own search on Google and gave up trying to find it after landing on page 9 of Google's results pages without any luck.
He contacted us at RCS Websites and we were able to help him in rebuilding his website (putting up a temporary page until the website was ready). In a short space of time, Mark saw a boost in business opportunities with a daily increase in sales leads.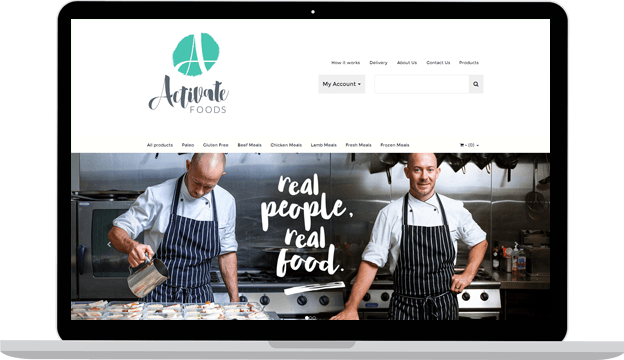 Activate Foods
Activate Foods is a leading provider of healthy meal delivery including Paleo, Gluten Free with clean eating principles on the Central Coast. Here is an example of a startup business on the rise and growing quickly in a competitive market.
The owners of ActivateFoods have a great network in the fitness industry and are active and responsive on social media. Where they struggled was on Google. To help grow and gain extra business we recommended a fluid approach taking the brand to the next level with pay per click and an aggressive SEO campaign amongst other advertising methods.
Activate Foods are smart operators, and we work closely with them in helping to gain the best results and naturally grow their business while helping to retain existing business. They already provide great communication with clients and an excellent product, RCS have just helped take the technical side to a new level.
Client Comments:
We have been working with Rob on SEO for our website for Activate Foods. After a matter of weeks, we already see additional sales come through. Rob is confident in his recommendations, and we trust that he will look after this area of our business for us. Megan and Martin Bowden
Good People.
Kind Words.-
I was referred to Rob by my previous web designer who was no longer in the business. I was having a lot of problems with my previous website and Rob took the time to look it over and explain to me the issues with it and the process to move forward. He designed a new website for my photography business which I am extremely happy with. What's important to me is how quick he responds to emails and questions and he offers advice on how to attract leads. It's great to know I have Rob there to help me further develop my business and I have no hesitation recommending his services.

Jodie Reardon


1/30/2015

Rob and his team completely redesigned our website and helped me through the mire of transferring the domain ID. The result has provided us with a professional, high quality outcome. Rob and the team were responsive and provided us with great service and suggestions for change. I would not hesitate in recommending RCS Websites in the future and look forward to continuing to work with them as we progress.

Neil Mulcahy


5/09/2018

Love the work of RSC Websites, great asset for my business. Would recommend to any small or big business.

Corey Pitsillidi


10/27/2017

Great ideas and brilliant customer service! Always there when you need to discuss problems or ideas. Our new website looks and works better than we expected. Highly recommend Rob and his Team.

Mark Connell


7/19/2017

Just had our website built by RCS Websites. Can't recommend them highly enough. Thanks Rob and team, you are true professionals - I wish I could rate 6 stars!

The Identicals


8/22/2018
Free
PAY PER CLICK (PPC)

Tips

Download our free guide for PPC must haves. All successful marketing campaigns start with a better optimised website. Read why in our free e-book.
or read the book on our website (better for mobile users) – click here